Gift Shops in Salem Massachusetts
Nestled within the historic streets of Salem, Massachusetts, a town steeped in mystique and folklore, lies a vibrant and enchanting world of gift shops. These delightful emporiums beckon visitors with their eclectic offerings, inviting them to explore an array of unique treasures and souvenirs that embody the spirit of this captivating New England destination.
Salem's gift shops serve as gateways to a world where history, enchantment, and imagination converge. Each shop is a treasure trove of carefully curated items, ranging from whimsical trinkets and artisanal crafts to locally inspired artwork and occult-themed memorabilia. Whether you're a history aficionado, a lover of all things mystical, or a seeker of one-of-a-kind keepsakes, Salem's gift shops have something to delight every visitor.
These quaint establishments provide a respite from the ordinary, allowing you to immerse yourself in the enchanting ambiance that permeates the town. As you browse through shelves adorned with curiosities, you'll uncover treasures that capture the essence of Salem's rich heritage and contemporary charm.
Browse below to check out our selection of gift shops in Salem, Massachusetts.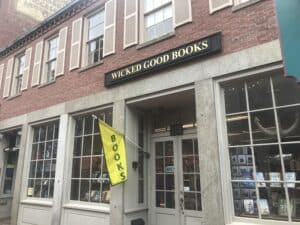 Wicked Good Books in Salem took over from a similar shop before it. It also happens to be built on top of haunted tunnels. Learn more here!
Read More »