Pyramid Books Salem
Pyramid Books in Salem Massachusetts is a bit of an odd duck as New Age shops go. But, beneath its somewhat random flow, there might just be something worth checking out. Let's dive into my thoughts on Pyramid Books Salem.
Why You Hatin'?
Ok, my intro there may have been a little harsh. But one can't deny that the whole vibe of Pyramid Books Salem is a little odd. Compare it to other Salem shops and the dissonance becomes especially pronounced. That's because there are other witch shops in Salem that do such a fine job of relating to their branding.
Let's have a look at Hex and its sister store Omen, for example. When you see the sign for Hex from Essex St. you know exactly what you're in for. It's dark, it's spooky, it knows what it is. Likewise, Omen is a little less obvious from the shop's name, but once you enter, you're bathed in a see of white, healing light and everything becomes clear.
Now I have major issues with both of these shops, but one thing they do have going for them is they know who they are. And they organize their layouts, branding, and merchandise to reflect that. I can't really say the same for Pyramid Books Salem. Is it Egyptian-themed? Not especially. How about conspiratorial, Illuminati, OTO or something in that vein? Nope. It's not really much of anything clearly Pyramid-esque and in a town like Salem, that's a bit of an issue.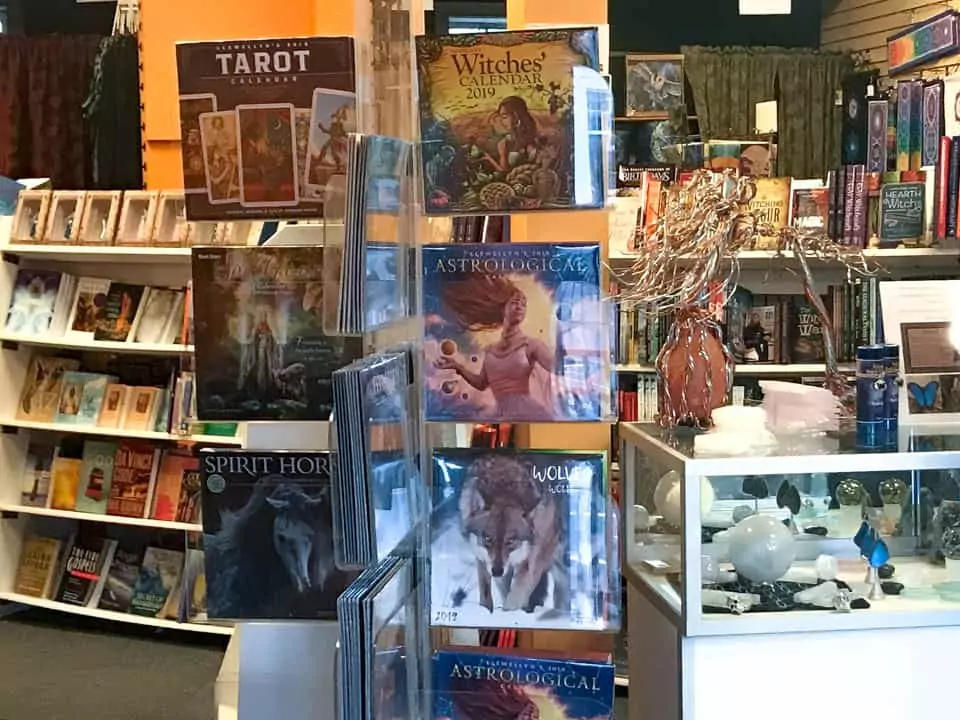 But Wait, There's Books!
For my money, the thing Pyramid Books Salem definitely has going for it is the sheer volume of its book collection. I'm not sure anyone else in Salem comes close to the number of titles on offer. Because the floor space is so massive, you're likely to find something relating to pretty much any topic of New Age thinking at Pyramid – at least moreso than other Salem shops.
The volume and variety extend off the bookshelves as well. They've got stones, tarot and oracle cards, incense, crystals, statues, idols, and so much more. Again, there's no rhyme or reason to it, but man is it varied.
Psychic and Tarot Readings at Pyramid Books Salem
In the spirit of 100% transparency, I've never had a reading at Pyramid Books Salem. The reason for this is pretty simple: it just doesn't look that appealing to me. Readings are conducted in little cubby-sized rooms that line the back wall. There's no flare to these spaces at all. It basically feels like you're getting a reading at the Psychic Faire. And, for me, environment is everything when it comes to things like this, so I've always opted for spaces that are decidedly more witchy.
That said, we live in the age of the internet. And the reviews are definitely in for Pyramid Books. If you have a gander at their Facebook or tripadvisor pages, you'll find a lot of glowing reviews. Most of these are related to the shop, but the ones that do speak to psychic or tarot readings are generally stellar:
It was 30$/15min which is 5-10$less expensive than the others and they weren't pushing it on the tourists at all. I had a fifteen minute reading with Doug and I honestly will say it was the highlight of my trip. 
I've had a couple readings here before – both really accurate and one was okay. It just depends on the person and your 'chemistry' with them.
Absolutely love Pyramid Books! Beverly Anderson is beyond talented…highly recommend getting a reading with her! 
With the exception of a few, these are the kinds of reviews Pyramid has in the way of readings.
Final Thoughts
So, should you check out Pyramid Books Salem? My answer is a resounding YES! Really, my only criticism is the randomness of the merchandise and not-so-great divination spaces. And these are both super minor when you compare them to issues with other Salem witch shops. The randomness you could even say is a draw if the overt theming of other stores gets under your skin (which I 100% empathize with). All in all, Pyramid Books is Salem's rare gem and one that's often erroneously overlooked in the Salem New Age Shop discussion.
Pyramid Books
214 Derby St, Salem, MA 01970
Hours: 11am – 7pm Mon-Sat.; 11am-6pm Sun; Halloween or Autumn times may vary
info@pyramidbks.com
(978) 745 – 7171