Nestled on the coast of Massachusetts, the historic town of Salem stands as a living testament to a dark and mysterious chapter of American history—the infamous Salem Witch Trials. Today, Salem is known as much for its bewitching atmosphere as it is for its captivating witch stores, where enchantment and curiosity converge.
With its cobblestone streets and colonial architecture, Salem exudes an old-world charm that effortlessly transports visitors back in time. Within this bewitching backdrop, a plethora of witch stores offer a fascinating glimpse into the occult, wiccan, and pagan traditions that have thrived and been revived throughout centuries.
Venturing into Salem's witch stores, one is met with a sensory feast of incense, crystals, tarot cards, spellbooks, and other mystical artifacts. These stores are more than just retail establishments; they are gateways into a world of magical exploration and self-discovery. Whether you're a dedicated practitioner, a curious onlooker, or an avid history buff, Salem's witch stores cater to a diverse range of interests and offer a unique shopping experience like no other.
While the infamous witch trials of the late 17th century were a dark and tragic chapter in Salem's history, the modern-day witch stores serve as a celebration and acknowledgment of the town's rich occult heritage. These stores have become symbols of diversity and empowerment, promoting spiritual growth, and encouraging a deeper connection with nature and the unseen forces that surround us.
Use the section below to dive into Salem's witch stores, uncover their allure, explore their wares, and immerse yourself in the magical energy that permeates this captivating New England town.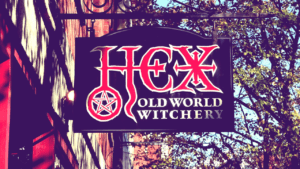 Christian Day, Brian Cain, and the witches at Hex Old World Witchery present an authentic New England Witchcraft shop to curious Salem visitors.
Read More »